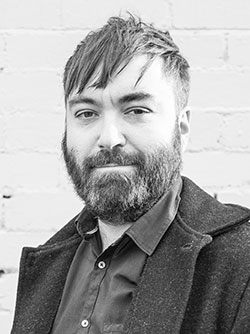 Travis Tiddy
Artistic Director, The Unconformity
The Unconformity an evolution from a biennial three-day event into a year-round vehicle to that amplifies Tasmania's unique West Coast identity to the world.
Abstract:
The Unconformity's Artistic Director Travis Tiddy will take us through the extraordinary evolution of the event since its inception 11 years ago. Created as a memorial community event, it has evolved into a multi-modal platform that is helping drive the reinvention of Tasmania's wild West Coast. This session will highlight the growing impact The Unconformity has on Queenstown and the West Coast, and how it actively leverages Tasmania's broader identity and brand positioning.
The Unconformity Chair Rick Snell describes Tasmania's West Coast and the role of The Unconformity within the West Coast community:
"We live on the edge in wild western Tasmania. Our region is a paradox, incongruous; it does not conform. Polarising forces jostle for attention, ripe for exploration by artists attuned to the community.
The West Coast community (pop. 4,149) inhabits a big, contradictory landscape. Impassable mountains are plumbed for riches; annual biblical rains feed hydro-electric generators that power Tasmania. Mines abut world heritage areas; in Queenstown, children chase errant footballs down a biologically dead river. Grass football fields? We do gravel. Boom and bust, acceptance and rejection, risk and conservatism, hope and despair lie in the bones of our landscape and our history.
The Unconformity has emerged from this complex and uncompromising environment as a cultural organisation that is fundamentally of its place. We have played a significant role in our region's ongoing cultural and economic transformation. As our ambition and capacity grows, so does our profile: national audiences and international networks are building.
Our unique value proposition is to be a powerful conduit into western Tasmania—a place hard to get to and harder to engage—by mining a new cultural commodity with the spirit of independence, boldness, risk and adventure that is melded to our region's DNA."
Biography:
Born and raised in the mining town of Queenstown, on Tasmania's West Coast, Travis is deeply invested in an arts-led revival of his community. The founding director of the biennial Queenstown Heritage and Arts Festival (2010-2014) and now The Unconformity (2018-), Travis is an award-winning designer, director and community arts and cultural development practitioner. Travis holds a Bachelor of Fine Arts in Visual Communication (First Class Hons) through University of Tasmania (2005), a Churchill Fellowship to research geo-tourism concepts for post-industrial communities (2011), the Tasmanian Premier's Young Achiever in Tourism Award (2014) and the Claudio Alcorso International Residency (2019). Travis has held governance roles in numerous arts organisations including Tasmanian Regional Arts, Ten Days on the Island and the Contemporary Art Tasmania Programming Committee.