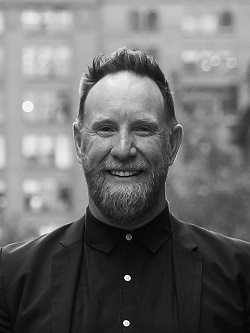 Andrew Hoyne
Principal – Hoyne, Place Visioning™        
Hubs of Health: Place branding strategies at the heart of knowledge and health precincts
Abstract:
In today's competitive climate, creativity and innovation are crucial ingredients for communities, precincts, suburbs, cities and countries to attract and retain talent. Nations that score better on the Global Creative Index have proven higher levels of economic output as well as equality, human development, happiness and wellbeing. As a result, the role of place branding and its ability to both inspire and reflect creativity and innovation, has become more vital than ever before.
Andrew will look at a number of real world, leading case studies, including James Cook University in Townsville, and Economic Development Queensland's Gold Coast Health and Knowledge Precinct, that showcase place brands for health, knowledge and innovation districts that have championed creativity and established them as engine rooms of urban regeneration and economic vitality.
Biography:
Over the last decade Hoyne have evolved to a core focus on place and property, and today they work with major international asset owners, developers and local councils to create recognisable landmarks and destinations; from residential towers and masterplanned communities to commercial developments, new mixed-use precincts, and even cities.
Andrew's passion for the power of place has led him to produce The Place Economy, a series of resource books on the social and economic benefits of effective placemaking from around the world.
As a direct result of the insights uncovered through The Place Economy, Hoyne has developed a trio of unique place related processes: Place Visioning™, Instaplace™ and Traderhood™.
Hoyne are now considered global thought leaders on place branding and place making.